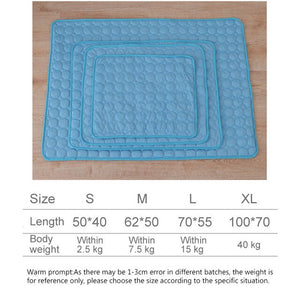 Washable Summer Cooling Mat for Dogs and Cats
Sale price Price $20.95 Regular price $12.78 Unit price / per
Free Shipping Available Now
Also protects your couch or sofa from pet hair!!
Cooling Pet Mat
The cool feeling of the fabric is that the fabric regulates the temperature by absorbing heat, and the cooling factor adheres to the skin with a cool and uncomfortable feeling.
The cooling mat is perfect for summer. It is suitable to as pet mat, car seat mat, sofa mat and so on. It will take you the cool experience.
Eco-friendly and Breathable
The fabric does not contain chemicals, polymer materials, glues, crystals or phase change materials. The fibers used are safe and non-irritating fibers, which are light, breathable and comfortable to wear.