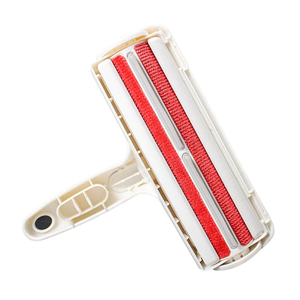 Fur Away Pet Hair Roller
Sale price Price $24.95 Regular price $49.95 Unit price / per
Free Shipping Available Now
Keep fur away from furniture, fabric, car seats, and more with this amazing dual action Pet Hair Roller.
Sturdy and made to last for 1000's of uses, the Fur Enforcer works when you move the roller back and forth creating a small static electric charge that amazingly picks up even the smallest piece of fur!! It traps fur, hair, lint and more in a tidy container making it simple to collect and throw away. 

Use the Fur Enforcer Roller over and over and over again with nothing to throw away or parts that need replacing!
It picks up dog or cat hair efficiently from sofas, beds, rugs, clothes, and anywhere pet hair collects.
No more single-use lint rollers. No more heavy vacuum cleaners. No nonsense!
It collects pet hair with the help of an electrostatic charge that's generated when you move the roller back and forth.
Step 1: Move the roller back and forth over the pet hair.

Step 2: Press the release button and open the lid.

Step 3: Empty the hair into the garbage can.

Picks up all types of fur and lint
Great for the sofa, couch, chairs, carpet, bed sheets, car interiors and clothes. Won't harm your clothes or furniture.
No Power Source or Batteries Required

No Adhesive or Sticky Tape

100% Reusable
Easy to use; Easy to empty
Portable, light and durable
Cost Effective - Save on lint rollers!
-----------------
Bundle with the Handheld Edges and Corners Brush!
Get to those hard to reach corners and edges with this edging brush.
-----------------
Do you make this with a long arm? I cannot be on my hands and knees.
Where has this been all my pet loving life!
Sticky rollers work fine for clothes but this is the only product that has ever COMPLETELY removed all the cat hair from my bed.
I have a long-haired 20-lb. tabby and if you run your hands up his back a few times and fling the hair everywhere, it looks like it's snowing – he never stops shedding no matter what I do. After using the Fur Roller, I can put on a black dress and roll around on my bed and not get a single hair on me. It's absolutely amazing.
In love
We rescued a little couch dog from the pound, and only previously had bigger dogs that weren't allowed on our furniture. I was weary of her little furrrrrs getting all over our previously pristine couches and knew that I'd need some sort of solution. I was willing to buy the lint rollers with sheets you rip off but was hoping for a better and less wasteful option. And those little short hairs grow arms and hold onto the couch when you vacuum. This thing works GREAT. I was so doubtful of it being the miracle product that so many of the reviews claim it to be. But it really is! A family member came by today and I swiped this baby over my couch a few times, emptied it into the trash, and you can't even tell a dog has been sleeping there. Highly recommend investing in this!